Another lesson from Hubspot: A picture is worth a 1000 words
Here is another grab of info that you can use in your next mobile marketing campaign. It is again from Hubspot who provide great content to help make your campaigns engaging.
​​
What you can take away from this article is the fact that using images in any marketing strategy increases the chances of your desired market acting on the message.
​​
Enjoy!
​​
LESSON #3: A PICTURE IS WORTH 1000 WORDS
​​
There's a reason why expressions like, "Seeing is believing" and, "A picture is worth 1000 words" are so universally recognized — and that reason is based in science.
​​
It's called the Picture Superiority Effect, and it refers to a large body of research, which shows that humans more easily learn and recall information that is presented as pictures than when the same information is presented in words.
​​
In one experiment, for instance, subjects who were presented with information orally could remember about 10% of the content 72 hours later. Those who were presented with information in picture format were able to recall 65% of the content.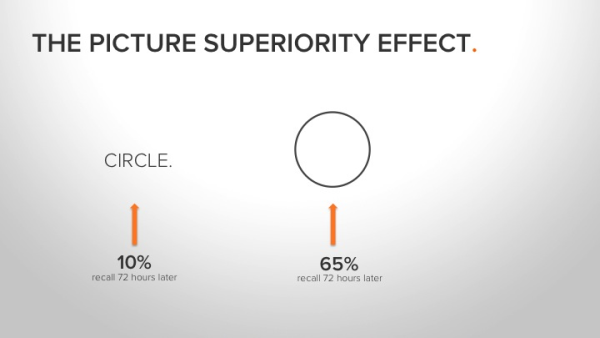 ​​
Not only do we remember visual input better, but we also process visual information 60,000x faster in the brain than we do text.
​​
Which of the following did you comprehend faster, for example?
​​
Sure, it takes more time to find and select awesome images to replace text, but master communicators know that it's worth the extra effort to achieve maximum impact and maximum audience retention.
​​
TAKEAWAY:
​​
Images are wicked powerful. Use them liberally.
​​
Full article here
​​
What did you take away from this article? We would love you to comment!